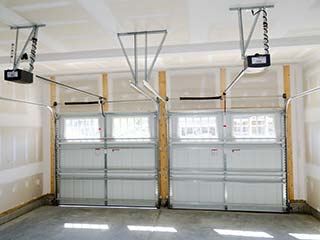 With some problems that make your garage door move unusually, you can sometimes wait before getting it checked out. However, with broken springs, you have no alternative but to install new ones. Since the springs serve as the main counterbalance force for the panels, they play a crucial role in the system's operation. That means that a garage door with a broken spring is not safe to use, and if you try to, you can make other parts break like the opener chain, drive system, or motor gear. When you've got the need for garage door spring repairs or replacement in Phoenix or other nearby areas, you have a local crew of technicians that can assist.
Why Did the Garage Door Spring Break?
In a word – tension. In a few more words, because it sustained too much wear and tear. Every time you use your garage door you're putting a strain on the springs. Their coils sustain it, but very gradually, they become more and more malformed. Finally, as they grow weaker, they reach a point where they can no longer support the weight of the garage door. And that's when the springs break. If they're not secured safely, there's a chance they can go flying when that happens. And for this reason, it's a bad idea to try to perform garage door spring replacement by yourself if you've never done it before. Experience matters quite a bit here, so you're better off letting a professional handle it.
Broken Springs Replaced ASAP – Phoenix Garage Doors
Whenever you've got a problem that makes you need a new spring installed, let us know! Our local Phoenix garage door spring replacement services let us assist in all the nearest areas and other close by regions at a moment's notice. Our professional technicians will get to your address quickly with a new spring for your garage door. Don't take any risks when it comes to broken springs. Replaced safely by our pros, the new units will serve you well for many years. Call for same day solutions any day.