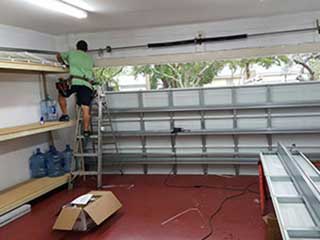 There's a way to prevent a lot of different issues from affecting the performance and functionality of your automatic garage door. What is it called? You guessed it – regular maintenance.
Ensuring Working Efficiency
Wear and tear comes with the territory as far as garage door systems are concerned. The many different parts involved in their operation are always under stress and friction, and that leads to gradual degradation, and eventually, a breakdown. To prevent, or at least, delay, a lot of problems, we advise that you have your system examined by our professional repair specialists on a regular basis. We'll quickly root out any minor issues before they get a chance to become major troubles later on. This will help keep your door operational for a lot longer, and reduce the amount of collateral damage that occurs when one part breaks down.
Major Lubrication Efforts
There are several parts of your door that will greatly benefit from being lubricated regularly. Torsion springs, in particular, need to be serviced this way to alleviate some of the stress they are subjected to. Steel rollers also need this treatment, as do the hinges that connect the panels. Our experts will see to it that these components are able to move smoothly and quietly, which will make our door operate more efficiently for a longer period of time.
Important Safety Tests
In addition to making all sorts of tweaks and adjustments, one of the things we'll focus on during our service appointments is the alignment of the safety sensors. These are the photo-electric eyes that prevent the garage door opener from accidently causing the panels to hit someone, so their functionality is downright crucial. We'll make sure the door reverses properly when it's supposed to, and fix anything that's preventing it from doing so.
Today Is The Day To Call
Don't wait for things to go wrong with your door. Give our experts at Garage Door Repair Phoenix a call and let us see to it that you don't have to deal with all sorts of unexpected problems.
When it comes to your door, we don't settle! We also offer:
Garage Door Tune Up Services
Broken Spring Replacement & Repair
Genie Garage Door Openers
Overhead Door Installation