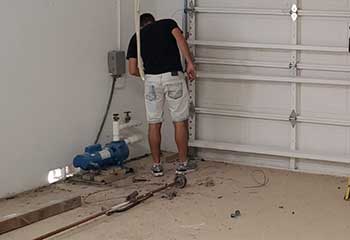 Roller Replacement
Customer Issue: One of the customer's garage door rollers broke off, leaving a jagged, half-broken hub. Needless to say, replacing the roller was a top priority.
Our Solution: Removing the garage door from its tracks was a painful process, as we saw how it was scraping the left track as we moved it. We ended up cutting the offending jagged point off before removing the door, just to save the track! Afterward, we removed the broken hub and replaced it with a fresh one, as well as a roller, and cleaned, oiled, and doctored the scratched track before reinstalling the door.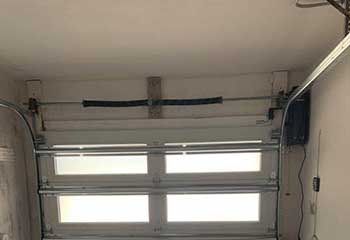 Garage Door Off Track
Customer Issue: The Lokums' garage door rollers slid out of the left track and wouldn't go back in. According to the customers, they had already repaired the track in question within the last year.
Our Solution: Upon arrival, we determined that the repaired garage door track was in bad shape, almost certainly due to inexpert work. We bent the track back into shape and placed some extra bracing around the bend area after removing the garage door. When we put the door back on its doctored tracks, it moved in a much more stable manner.