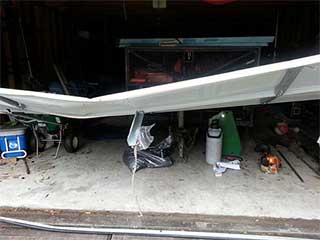 Although the materials used for garage doors panels and various other hardware parts are more durable today than they were even just a decade ago, some issues are still unavoidable. Be it the result of natural wear and tear, an unexpected accident, or a lack of maintenance, the result will be the same. During such incidents, the door might not close or open all the way, reverse without a good reason or might get jammed.
Commonly Occurring Problems
Homeowners often have to deal with broken springs or a cable that came off the drum. These are extremely dangerous scenarios that require an urgent response. Not only will these types of situations keep you from using your door and compromise the security of your home, they'll also put your safety at risk. That's why we've compiled a special team that delivers emergency garage door repair services to any local customer in need.
Why Do Accidents Happen?
Components wear out over time. That's the nature of things. Screws can get loose with daily use and will get damaged if a car bumps into the door, as will the panels, obviously. All sorts of DIY attempts can also lead to exacerbated damages. Customers who fail to get the right component size, or a part that's insufficiently strong enough to carry the door's weight, will often snap or malfunction. Failure to get the springs replaced at the right time, as in - before they break, or will result in an unexpected breakdown, during which other parts of the system will get damaged as well. Another key contributing factor is maintenance. Bent or misaligned tracks, for example, can cause the rollers to slide off and get the door stuck. Misaligned safety sensors will fail to prevent the door from closing down on an obstacle, which could damage its panels, not to mention, the obstacle itself. Regular inspection and maintenance can prevent a lot of these issues.
We Got Your Back
Our experts at Garage Door Repair Phoenix can repair or replace every single part of your system. We specialize in spring and cable replacement, as well as track repair and realignment, to mention a couple of tasks. There really no situation we can't resolve quickly and effectively. You need to reach out to us the moment you discover a problem. Our professional technicians will take care of it as quickly as possible and keep you and your family safe from harm. Call us today.