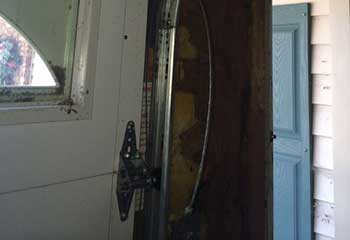 Track Repair
Customer Issue: One of the garage door tracks got bent and couldn't let the rollers pass through. This caused the door to get stuck.
Our Solution: We started by disconnecting the opener to ensure no one accidentally tried to use it while we worked. Then, we took the door out of the bent track and started working on it to straighten the bending. Once finished, we reinserted the rollers into the garage door track and then lubricated every moving metal part for optimal smooth movement. The door could once again open and close with no issue.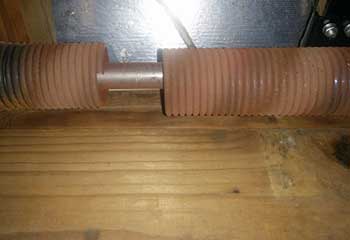 Broken Spring Replacement
Customer Issue: Garage door spring broke and the panels couldn't get off the ground without overstraining the opener.
Our Solution: Luckily, we deal with broken garage door springs all the time. This sort of problem is, unfortunately, perhaps the most common one. We took off the broken spring and installed the unit we brought (of similar dimensions and flexibility) in its place. Then – the obligatory testing and spring tension adjustment, to ensure the overhead door could open with ease again.
Baily Georgeson
- Tolleson